About us
Welcome into our family kitchen
Above all, Cuisine en Famille is a story of two hearts… the story of Claire and Adrien.
They met at high school, did their further education together, split up (not for long), got back together, settled in their home villages, worked on their respective family estates, slipped a ring on each other's finger, and started a family….
It's the story of two vignerons in love, each with their own business, who one day decided (because they'd soon be turning 40!) to pursue their passion for wine hand in hand, and to share the values they hold dear…
Cuisine en Famille is thus a family-owned négociant – caring, natural and simple. It's like our grandmothers' kitchens, like big meals with friends, returning from Sunday market, get-togethers in the kitchen, the kids licking the spoon, laughter, mates turning up unannounced, the pressure cooker simmering on the range, occasions big and small…
"For us this is a new joint adventure, a fresh page in our family history. And it just seems so obvious to welcome you into our kitchen!"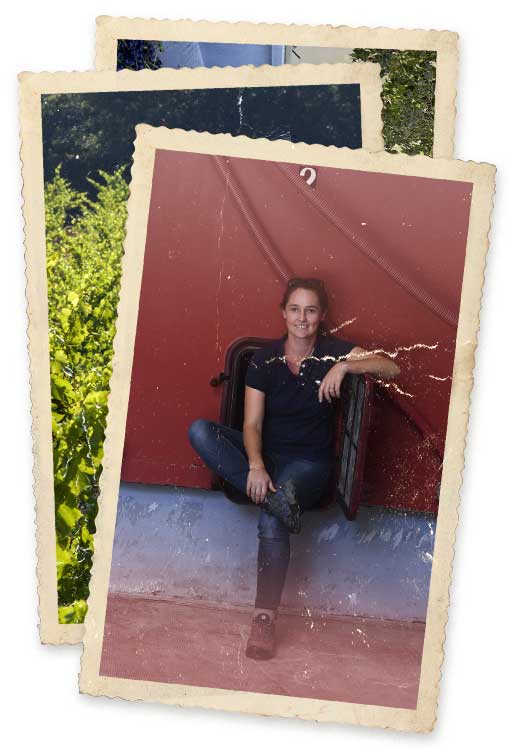 Claire, the mother
Pure and beautiful, a good fairy born under the lucky star of Châteauneuf-du-Pape, an œnologist, a talented yet modest (and even shy) vigneronne with a radiant smile, and above all a peerless cook, Adrien's wife and the mum of Louise and Jeanne…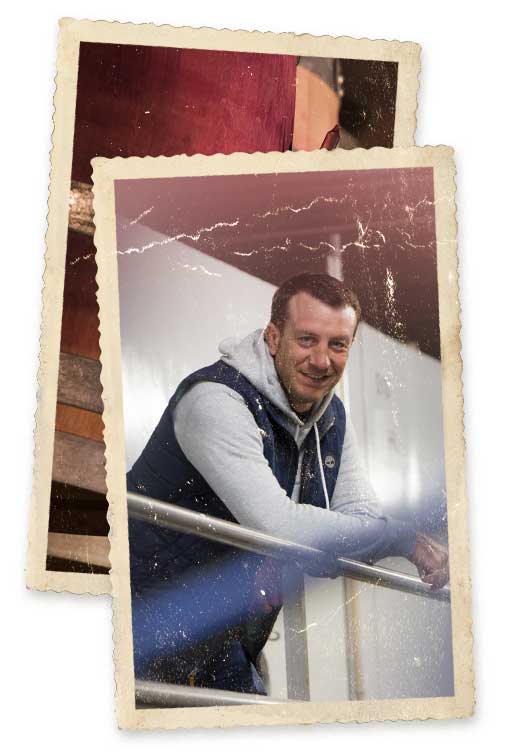 Adrien, the father
An impetuous character! A man in love, but above all a generous soul, a rugby player, an entrepreneur, a vigneron with a passion, feet always on the ground, an unrivalled taster and sometimes the "zero sulphite man", a creative charmer and joker, a besotted dad, patient, quietly strong, and above all Claire's husband…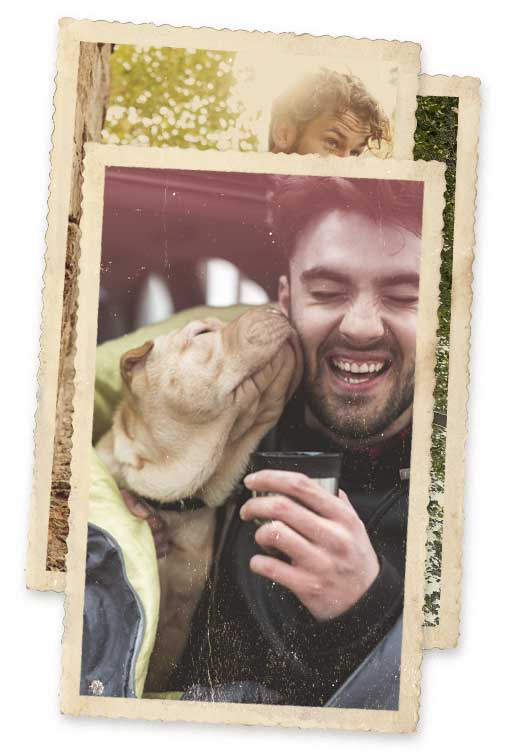 Their friends,
Childhood friends, friends of friends, friends who've become family, friends who are always there, with their help and advice and kindness… grape-growing and oenologist and wine-selling friends, friends with gourmet palates or hearty appetites…
A wine kitchen is always, and above all, a family affair!
Cuisine en Famille… stands for strong values.

"Our idea is to build a collection of responsible, ethical and healthy wines… Wines that are inspired, creative and reassuring – like the cookery we love."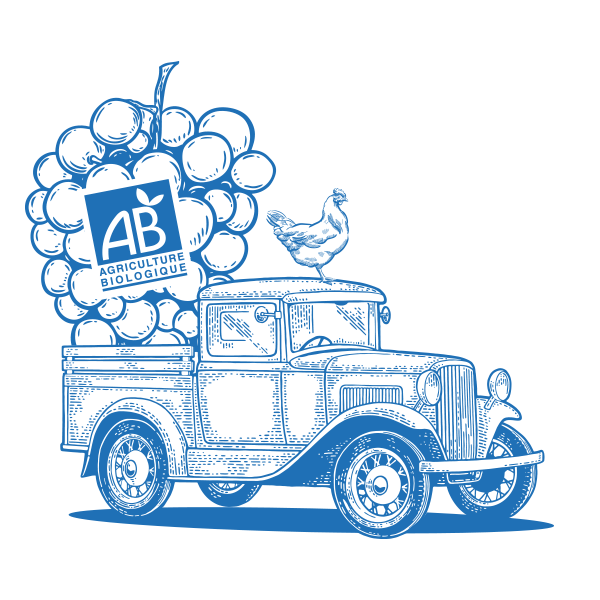 Ethical Healthy Responsible
Only select organic wines. Wines that are natural and authentic.
Pay a decent price for the work of these vignerons, who respect their land and their vines.
Surround ourselves with local partners and suppliers.
Be attentive to every step of production and marketing.
Share. Interact.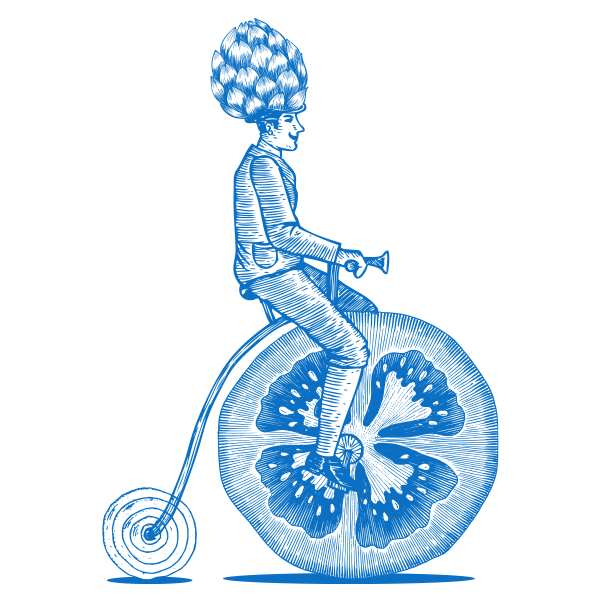 Creative Inspired Simple
Sip, taste, select, imagine, create.
Add our personal touch through the magic of blending.
Dare to shake up customs and combinations.
Know how to set off straightforward products by being deliciously offbeat, seriously inventive or simply conventional.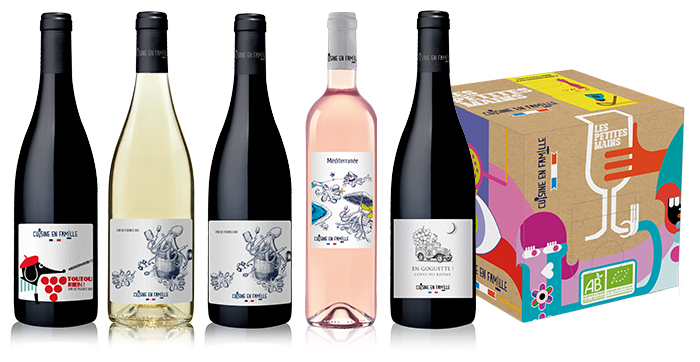 Organic wines, auteur wines, wines for modest cooks through to top chefs…
Moreish, expressive wines that are always crafted au naturel.
Wines rooted in the soil and beautiful terroirs. Sustainable wines.
Wines endowed with flavour, colour and perfume.
Wines that are fresh, elegant and alive.
 "Healthy and simple wines that are just like our cookery – for sharing by two, four or 12 people, during a romantic tête-à-tête, with family or friends…"
Les bras m'en tombent
Or the art of being in the kitchen…
Great ingredients aren't everything. In the cellar as in the kitchen, what also matters is a deft hand, the right balance, a keen eye, and a subtle final touch… which together sprinkle stardust on a recipe, to amaze and stir you…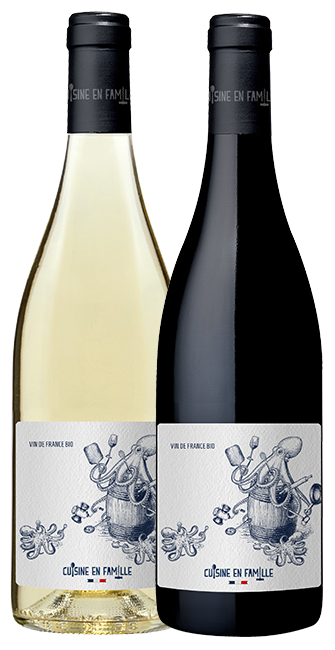 Vin de France
Organic 
Les bras m'en tombent
Blend: Grenache – Cinsault
A traditional Rhône Valley blend, but one that underscores the delectably light freshness of Grenache and Cinsault grapes planted in sand.
Vin de France
Organic 
Les bras m'en tombent
Blend: Clairette – Grenache blanc – Marsanne
This is a fresh white wine with mineral and white flowers notes. It offers a nice acidity balance, a remarkable length and a round finish.

IGP Méditerranée
Organic
Les bras m'en tombent
Blend: Grenache – Cinsault – Syrah – Caladoc
This typical Mediterranean blend is made with organic
grapes. It's a fresh and gourmet wine with a nice vivacity. Notes of
little red fruits and a very supple mouth.
Enjoy it simply as an aperitif to accompany tapenade,
shrimps or goat cheese toast… preferably with your feet
in the water!
Tout ou rien !
The grapes, the whole grapes… and nothing but the grapes

Vin de France
Organic
Toutou rien !
Blend: Grenache – Carignan – Cinsault
This cuvée was fermented in the south of the Rhône Valley. It's made from vines cultivated with the greatest respect for terroir and
environment, on pebbles and clay soils. And vinified without sulfites or any input …
A natural and gourmet red wine… slightly spicy and with a long finish.
En goguette !
Grenache – Syrah

Côtes du Rhône
Demeter (biodynamic wine)
En Goguette!
Blend: 60% Grenache – 40% Syrah
This classic Cotes du Rhone blend was fermented and aged in concrete tanks. The grapes were grown following biodynamic principles on a nice hill surrounded by woods. The vines are located on a clay and flint terroir. A supple and gourmet red wine, with fruity notes. Why not having another glass? To enjoy simply as an aperitif, to accompany grilled meat or a nice cheese platter.
Les petites mains
Bag in box • 3L • 5L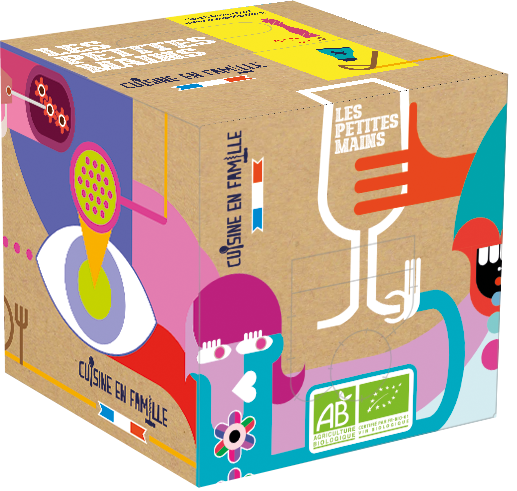 Côtes du Rhône
organic
Blend: Grenache – Syrah
« Les Petites Mains » means « small hands ». It refers to the younger kids helping you cooking. Discover the last- born in our Family kitchen!
A typical Côtes du Rhône blend. The 30 years old vines are growing on clay soils, on the left bank of the Rhone river.
A perfectly balanced red, with aromas of small red fruits. A gourmet wine, with very supple tannins.
Enjoy it whatever the season at room temperature, or lightly chilled. Let's have another glass!